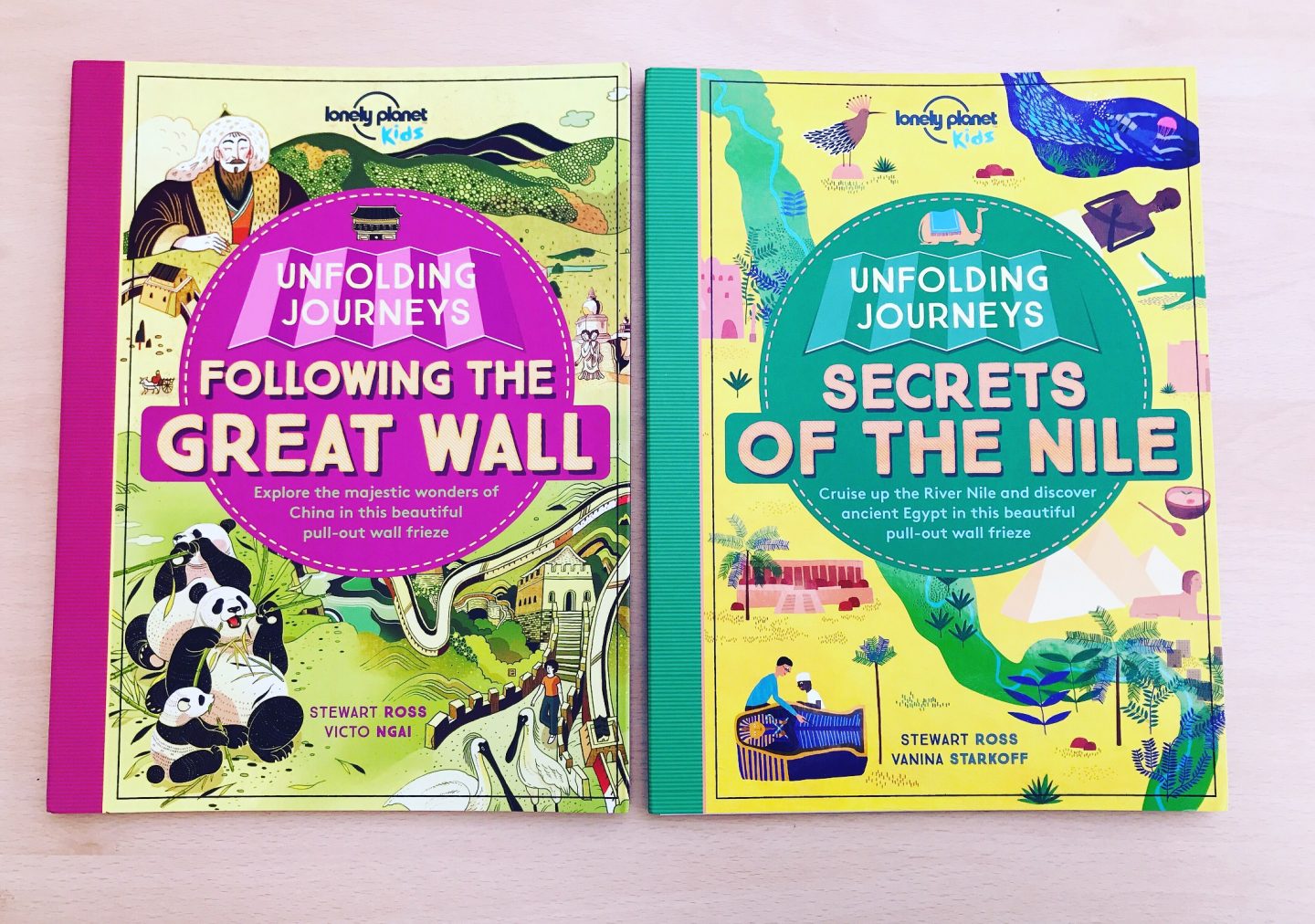 The kids were very excited to receive two brand new books from Lonely Planet Kids recently from the Unfolding Journeys series called Following the Great Wall and Secrets of the Nile. They love to learn about different places and these Unfolding Journeys are perfect for doing just that. They are full of wonderful illustrations and great facts but what is extra special about these books is that they fold out into a beautifully illustrated giant wall frieze.
Jump aboard and get ready for an unforgettable journey along the River Nile. From the golden beaches of the Mediterranean, travel upstream to explore the cultural, historical and natural wonders of ancient and modern Egypt.

Find out about Egyptian pharaohs and explore their treasures, tombs and mummies; visit modern Egypt and see how the landscape of the Nile is changing; discover the Pyramids and other wonders of the ancient world; and encounter some of the exotic creatures that make the Nile their home! Packed with stunning illustrations on one side and incredible facts on the other – get ready for a truly unforgettable journey!
Get ready for an unforgettable journey across China. From the dusty desert of Gansu province to the rolling waves of the Yellow Sea, this amazing journey takes you past flaming mountains and ancient wonders. Watch out for mighty fortresses, giant pandas and the extraordinary Army of Terracotta Warriors.

Along the way you'll discover breathtaking wonders of nature, visit modern China, and see how the traditions and landscape of the Great Wall are changing. You'll also encounter fascinating ancient Chinese monuments and amazing creatures living near the Great Wall.
Boo aged 10 tells us what she likes about these books…
I like the Secrets Of The Nile book because on one side there is a cartoon diagram of the Nile, a very long river that runs through Egypt, and down the side there 1-55 facts all about that river. If you turn the sheet over those facts go into more detail and it tells you the dates, people and where it was. I think this is a great children's book and a great study book for those who need it.

I like the Following The Great Wall of China book because on one side there is a cartoon diagram of the Wall of China and there are a lot of short and sweet facts all based around the Wall of China. It tells you where all sorts of temples and tombs are that are close to the Wall of China. What I found amazing was that the Wall of China goes all the way around China and that made me realise that it must have taken a long time to build (imagine building a wall around England)! This book was my favourite because I learnt lots of information about the giant panda. Pandas are my favourite animal, I'd love to go panda spotting in the Qinling Mountains.

I think these are very interesting books which you will enjoy very much.
You can buy these books at Lonely Planet Kids for £12.99 each and they are perfect for children ages 8-12 years. Also available in the Unfolding Journeys series are Amazon Adventure and Rocky Mountain Explorer.