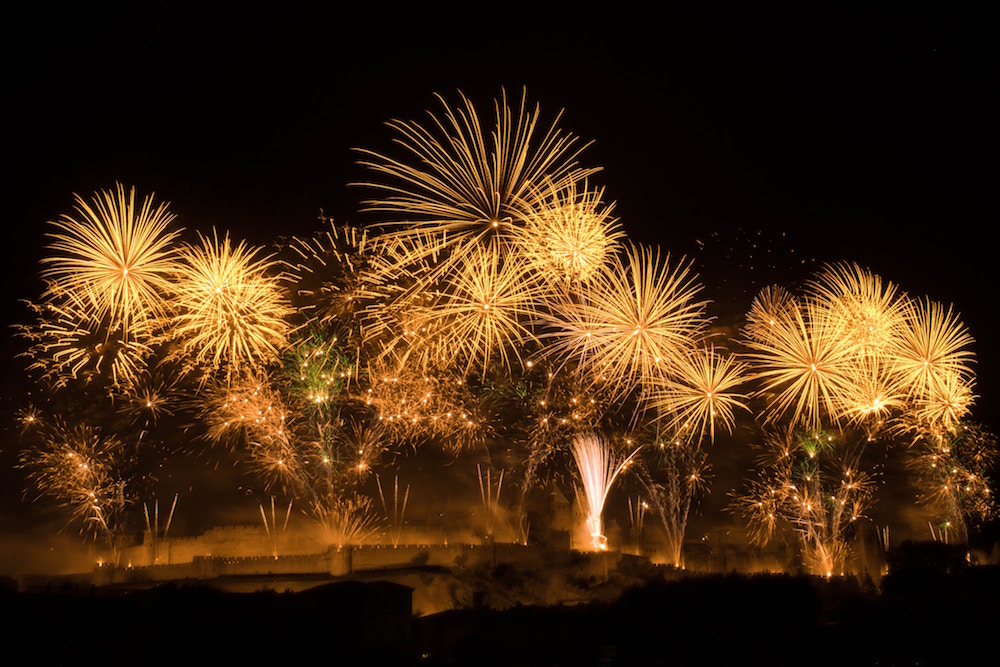 Looking for somewhere to go for a bonfire and fireworks display in Nottinghamshire? Then you have come to the right place. Nottingham always puts on some amazing events. Just look what it has in store for us this year…
Forest Recreation Ground, Nottingham
Nottingham's best loved FREE Fireworks display is back at the Forest Recreation Ground on Monday 5th November.
The largest and most central bonfire celebrations in the city, The Forest Recreation Ground will be packed with fairground rides and delicious food stalls, all centred around a grand roaring bonfire.
There are two firework displays, one at 7:15pm (suitable for young children) and one at 9pm. The bonfire is lit at 7:45pm
---
West Park, Long Eaton
The popular annual event attracts thousands of people who are treated to a fantastic display of pyrotechnics all set to music along with a spectacular bonfire. This year it has a Space Odyssey theme.
There is a also a selection of exciting fairground rides and food stalls on site.
2018's Bonfire and Firework display will take place on Saturday 3 November.
Gates open at 6pm. Bonfire is lit at 7pm and Fireworks start 7.30pm.
---
Newark Rugby Club, Newark
Fireworks display – bonfire  – fairground rides – licensed bar – food on Monday 5th November.
Gates open 6.00 pm, Bonfire lit 7.15pm and Fireworks from 7.30pm
---
Wilford Village, Nottingham
This year the annual Wilford Robin Hood Festival of Fireworks will fall on Saturday 3rd November, at Nottingham Moderns Rugby Ground, Wilford Village, NG11 7AA.
Stand by for a stunning display of impressive fireworks from the locally renowned pyrotechnic team from Crescendo Fireworks responsible for the dazzling displays at Highfields Lakeside, celebrating Chinese New Year, and Wilford Jubilee Celebrations.
Gates open, hog roast & mini fair at 5pm, children's fantasy fireworks at 6:30pm, Bonfire lighting 7:15pm and crescendo of 'dambusting' fireworks commemorating 100 years of the RAF is at 8:30pm
---
George Spencer Academy, Nottingham
Fireworks, fairground rides, licensed bar, hot food, bonfire, indoor canteen. One of the best value fireworks events in the area held on Saturday 3rd November.
Gates open at 5.30pm, bonfire lit at 6:30pm and firework pyromusical shows at 7:00pm & 7:45pm.
---
Oxton, Nottingham
Fancy a traditional village bonfire? Head to the beautiful village of Oxton for a traditional fireworks night on Saturday 3rd November. Hot food, drinks, live music, bonfire and an incredible fireworks display by Illusion Fireworks.
Gates open at 6pm, bonfire lit at 6:30pm and fireworks around 7:30pm
---
Kelham Hall & Country Park, Newark
Go and marvel at the Firework Extravaganza at Kelham Hall & Country Park. Enjoy the live music, fairground rides and traditional firework night treats on Saturday 3rd November.
Hall access, bars, hot food and fairground rides are available right up to 9.00pm.
---
Bingham Road Playing Fields, Radcliffe on Trent
Live entertainment from the Pesky Alligators, food and refreshments on Sunday 4th November.
Gates open at 5pm, kids display 5:30pm and main display at 6:30pm.
---
Nottingham Racecourse
Celebrating 175 years of MySight Nottinghamshire, the charity is back for their annual firework display. Taking place between 4pm – 8pm on Sunday 4th November there will be plenty of hot food and drink available, family fun entertainment, fairground attractions and a spectacular firework display.
The sparkling event includes exciting new attractions for all the family:
Children's fairground rides
Refreshment
Tea room
Bar
Great entertainment
FREE car parking!
All proceeds will go to charity at MySight Nottinghamshire.
---
Whatever you are doing please make sure to stay safe!
If you are looking for some safe, indoor bonfire activities to do with kids then make sure to check out this post – 15 Bonfire Night Activities for Kids
If you are in Nottinghamshire and are hosting a Bonfire and Fireworks Display and I haven't added you the do feel free to comment below with the details and for all of your future East Midlands events make sure you email us using the contact page ?