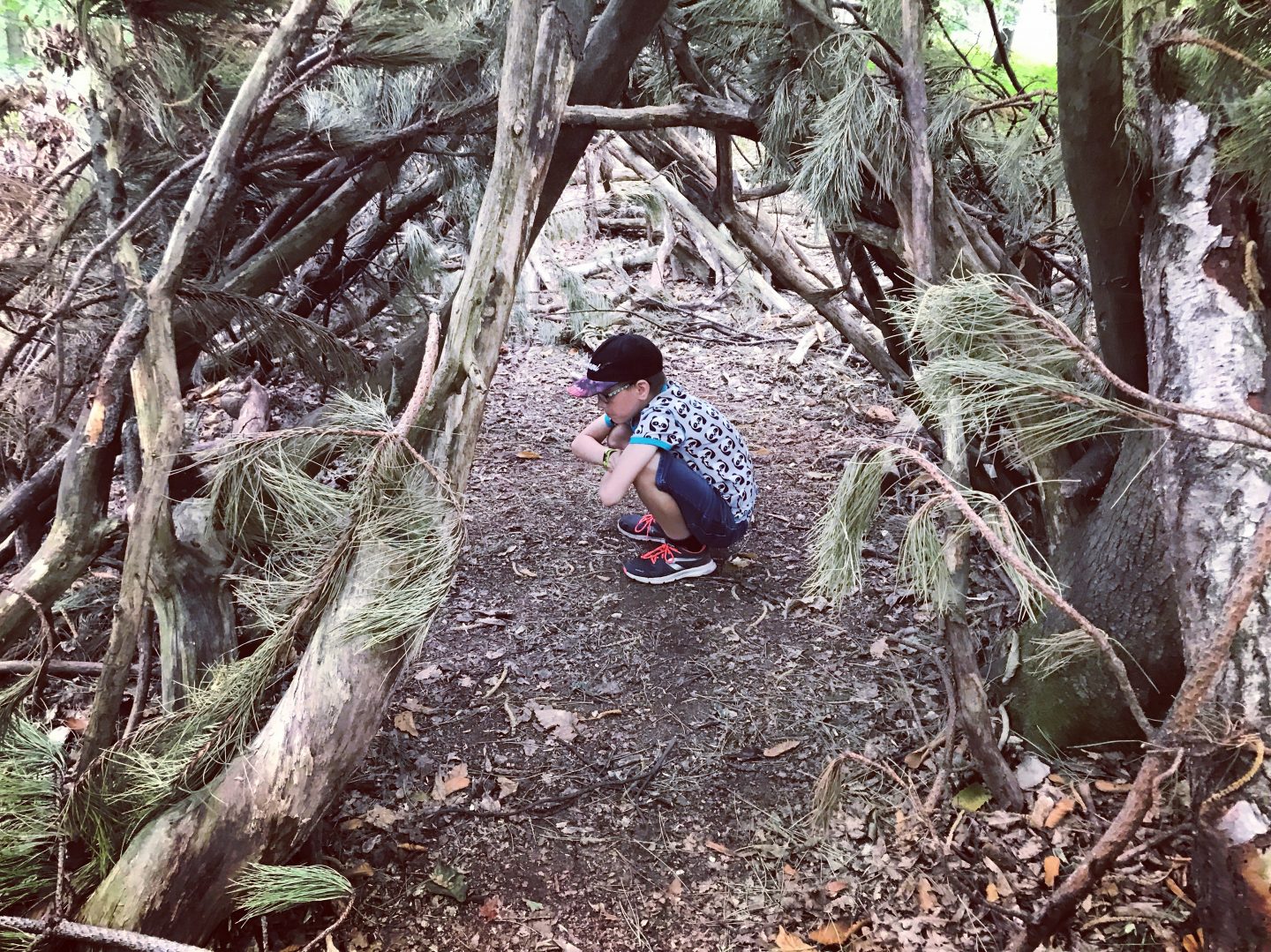 Nottinghamshire venues just aren't safe from the Places We Will Go.  Today was the turn of Sherwood Pines. A large area of… wait for it: pine laden forest. Although we had been before (without the kids), to try out seg-waying for my 40th we had not returned since.
Our visit today bucked the improbable recent trend of guaranteed sunshine in England and it was both overcast and cooler, well a little cooler and we all appreciated that. Sonia had made us a picnic, as she is wonderful like that and so on arrival we found a spot set-up our blanket and played a bit of football and frisbee, this enabled us to consume a half an hour or so until lunch time, when we would consume our sandwiches.
With food and football done we set off for a walk into the forest…NOW…I can write a typical description you might find in our blog, or any blog. Or, I can indulge you. If I dare, and I do. I will be a little candid. We are walking along an open track, pines trees all all around and so what do we do?…What is the first thing a family does in such a circumstance. Well our family settled into routine which I am sure will be very familiar to you, and is as predictable as a Swiss clock
….5 minutes into the walk.
(1 – Where?) The inevitable initial discussion about which direction, which path and where are we? Now often this is much easier..but no signal on the mobile and pine trees and landmarks nowhere to be seen trust me it didn't take long for the which path discussion to ensue.
…..7 minutes into the walk
(2 – How Long dad?) This is my personal favorite (it's not!) as while this discussion can be had anywhere on the planet with an 7 year old who longs for the irresistible screen of an iPad… in a forest of basically similar looking things in all direction… this sir is a test for anyone's powers of distraction or fun: 'lets look for Robin Hoods home'…or 'I think we are nearly there' / 'just around the next corner'… and then there's always the never ending promise 'we will get ice cream when we finish'. The last of these is so dangerous, especially when semi lost in a neverending wood.
….10 minute – pressure building
(3 – Where Now then?)
Crossroads in woods…etc etc.
So I don't want the above to sound bleak, or that my kids are terrible moaners, or that we are terrible parents, but I am positive you can relate to the constant ramping up as all parties contribute, their own part in this play.
Anyhow the actual truth was the walk was really pleasant, and while not particularly exciting except for the odd mountainbiker appearing from the undergrowth at speed heading towards you a good refereshing wallk was had among ferns, bracken, pine trees and sticks… the champion of all distraction by the way, and savior for the 7 year old who was close to being left in the wood with the wolves, badgers and stoats.
Walk done we went to the playground for a bit of climbing frame action and while it was just a bit to big for the 7 year old the 11 year old parcoured like a veteran.
The climbing facilities in Sherwood pines are excellent, if expensive. A netted area (Nets Kingdom) suspended in the trees. A bit like a giant bouncey castle / trampoline floating 30 or 40 feet up. There were lots of people having fun in this giant structure. But not us as it was £20 per person. Ouch!
There was also a Go Ape climbing facility in the trees., here we didn't look at the cost because the 7 year old and the 40+ year old are petrified of heights… attached to wires… ok it was just me.
So the 11 year old and I hired (£9 per person for 1hr including helmets) some proper mountain bikes and went for a cycle in the trees… That 'll teach those walkers. It was excellent. We took the blue route, 6 miles of moderately awkward terrain. Both of us had never mountain biked and it was great. We negotiated a mixture of some interesting curves, bumps hollows, hills and a lot of dirt… although dry, this really kept us very happy for 1hr. We were both tired at the end and so settled down for an ice cream and drink.
All in all a good time was had.
It is a great place but to really enjoy make sure you are willing to outdoor exercise and take some cash as a lot of the activities are not cheap.