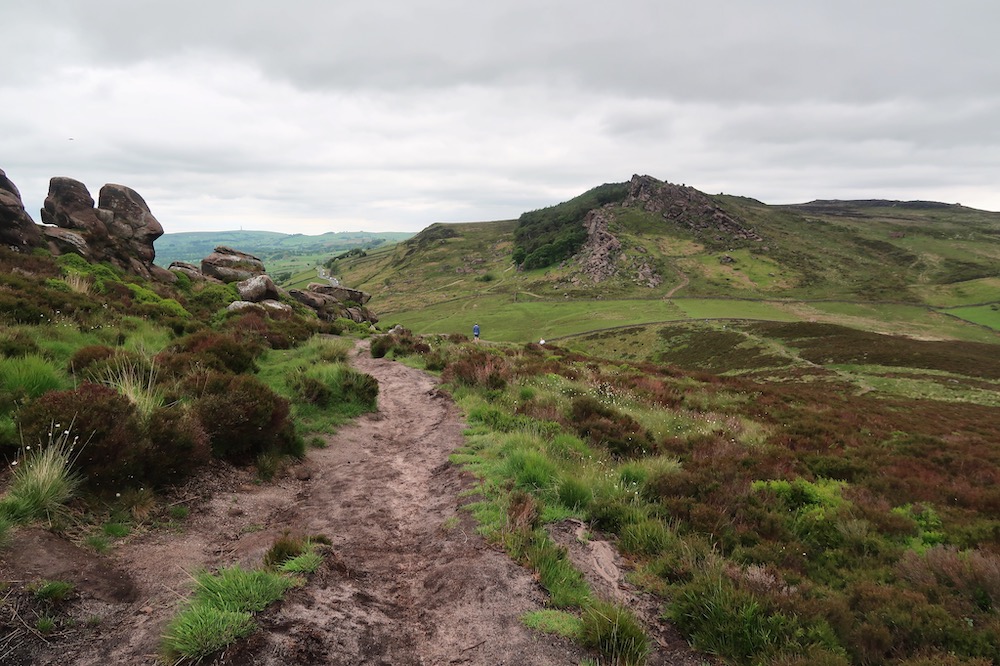 We headed to The Roaches in Staffordshire a few weeks a go to explore. It probably wasn't the best day to go as I had just fractured my elbow so climbing up rocks one handed wasn't very easy but I managed (somehow).
We didn't go with a walking route in mind as we hadn't been before so we just wanted to take our time to explore and let the kids have fun scrambling over the rocks. Next time I have a route that we'd like to do that I found on the ViewRanger app… I love that app by the way, I only use the free version but it always gives me some great ideas for walks, even local ones that I'd never think of doing.
Anyway back to The Roaches. The weather was pretty grey and rather windy at the top but we still managed a good few hours exploring, climbing and a picnic.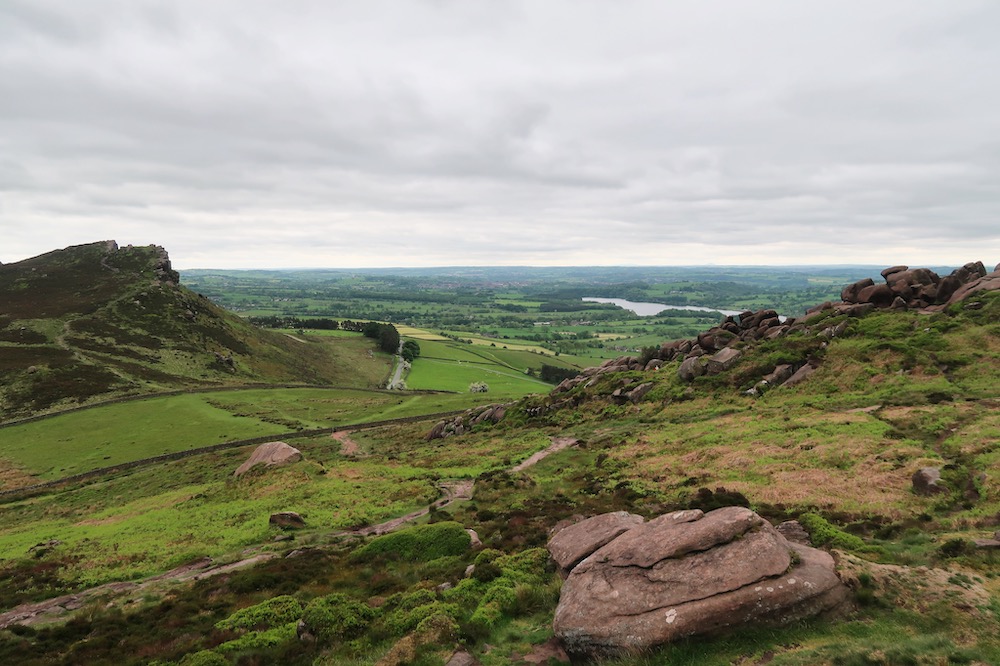 Unfortunately we didn't see any wallabies while we were there but apparently there have been many sightings… I do hope that there are some still out there.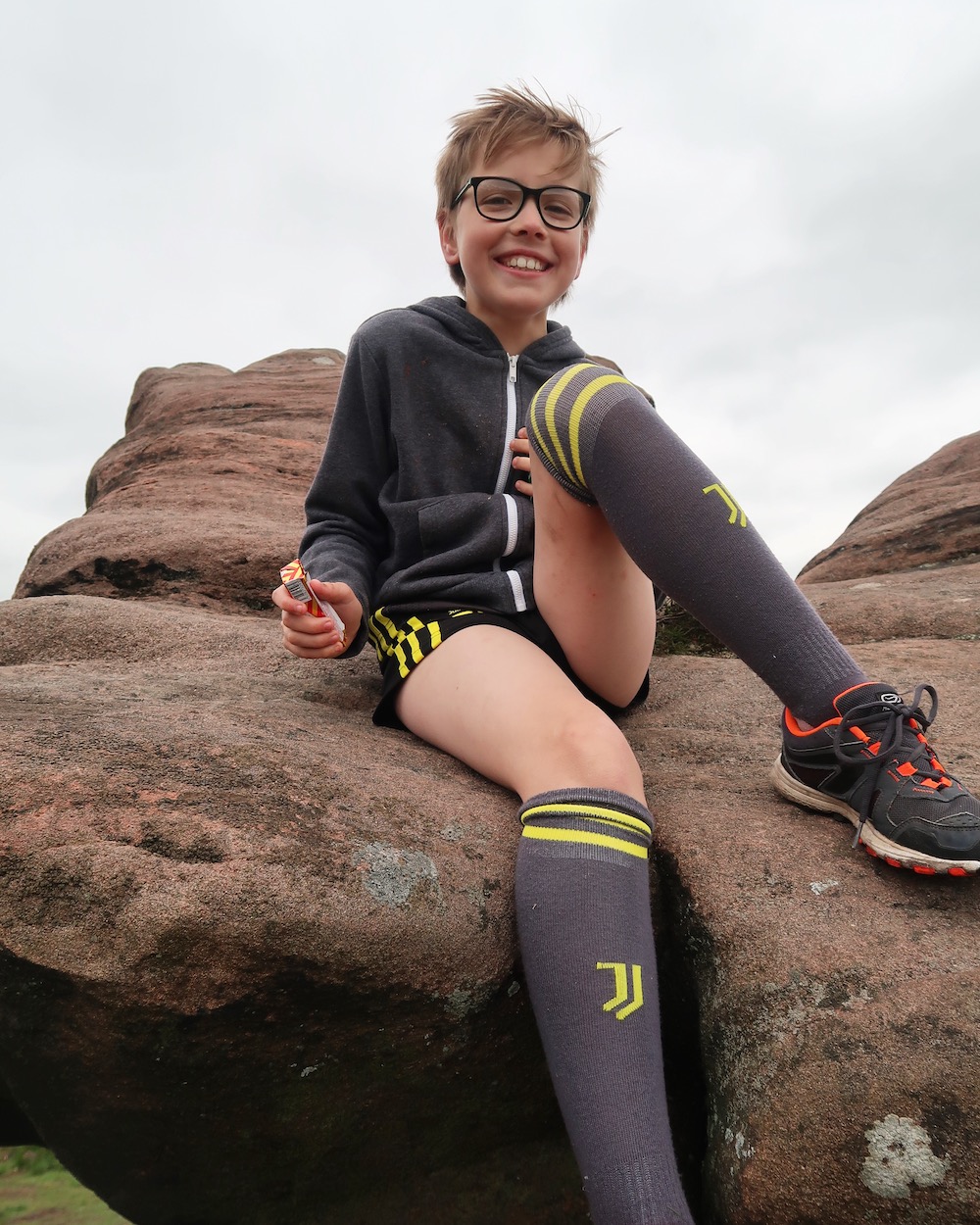 A place that makes you smile this much has to be good right? Or it could just be the fact he's holding a chocolate biscuit 😉
I didn't make it up there 😉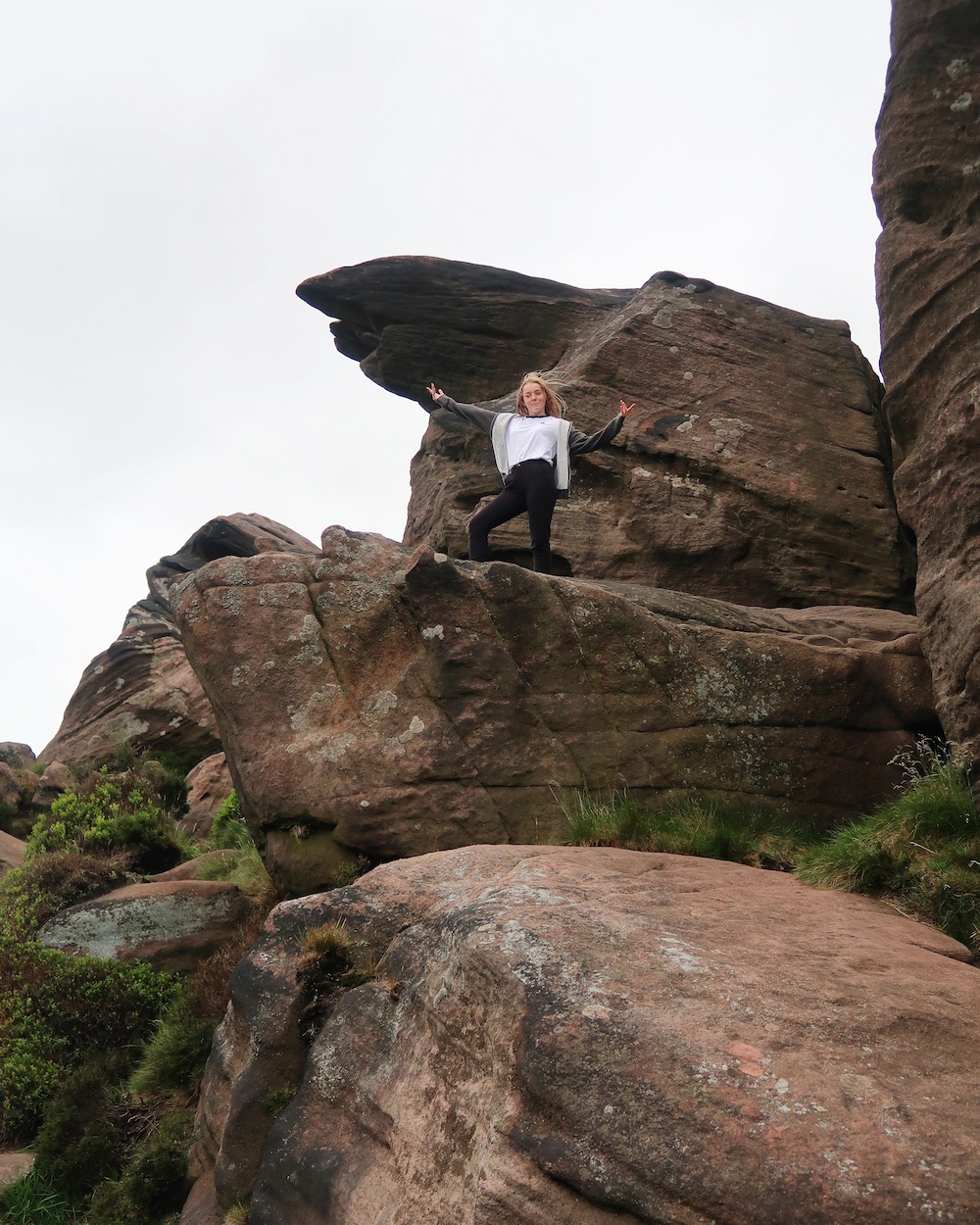 The climber of the family, she's always been the most independent little madam always wanting to go further and higher.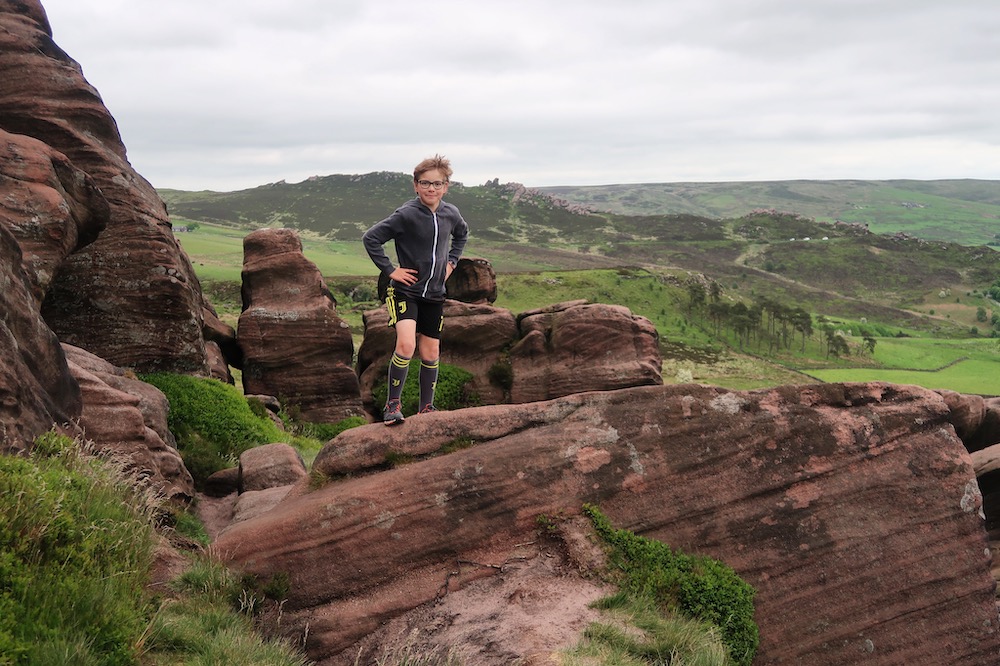 Bugs isn't quite as confident on his feet as Boo so he was happy to stay with me and my fractured elbow while Boo and James headed for the top.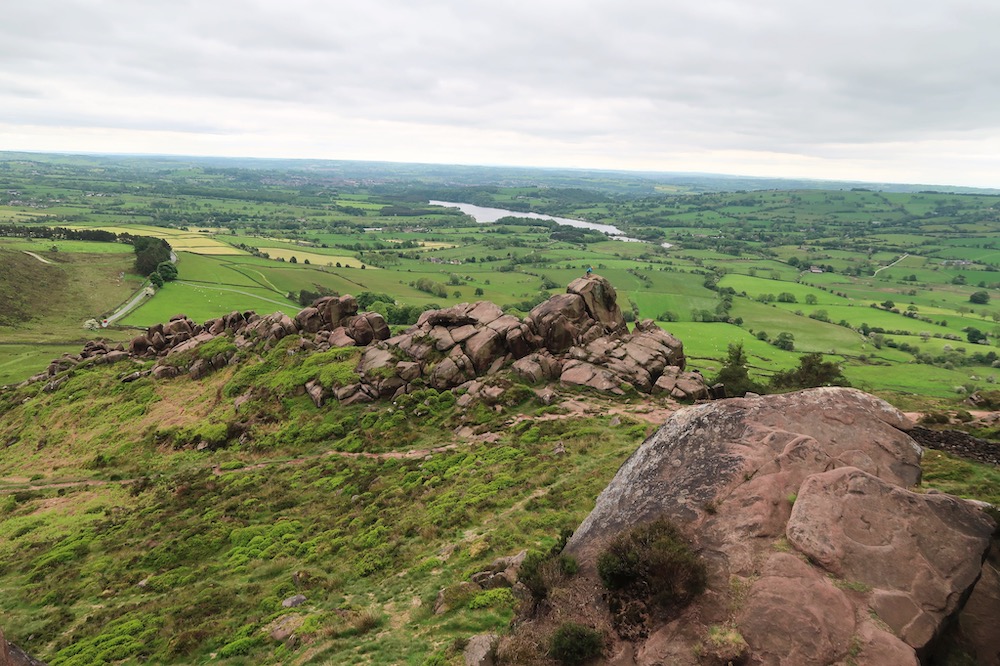 Amazing views over Tittesworth Reservoir.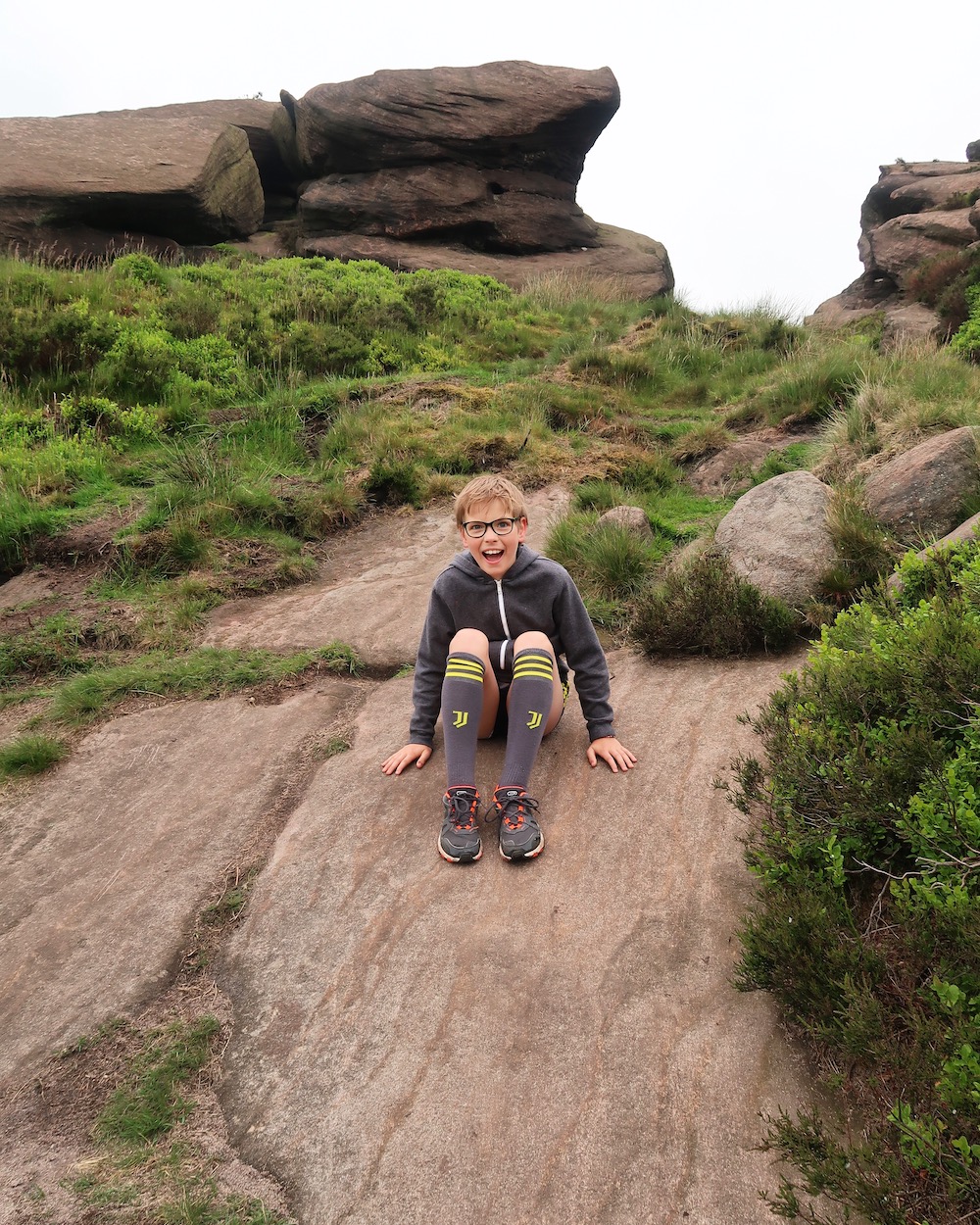 It's probably best to avoid wearing shorts if you want to slide down the rocks 😉 This boy lives in football kits and for this day it really wasn't the best choice.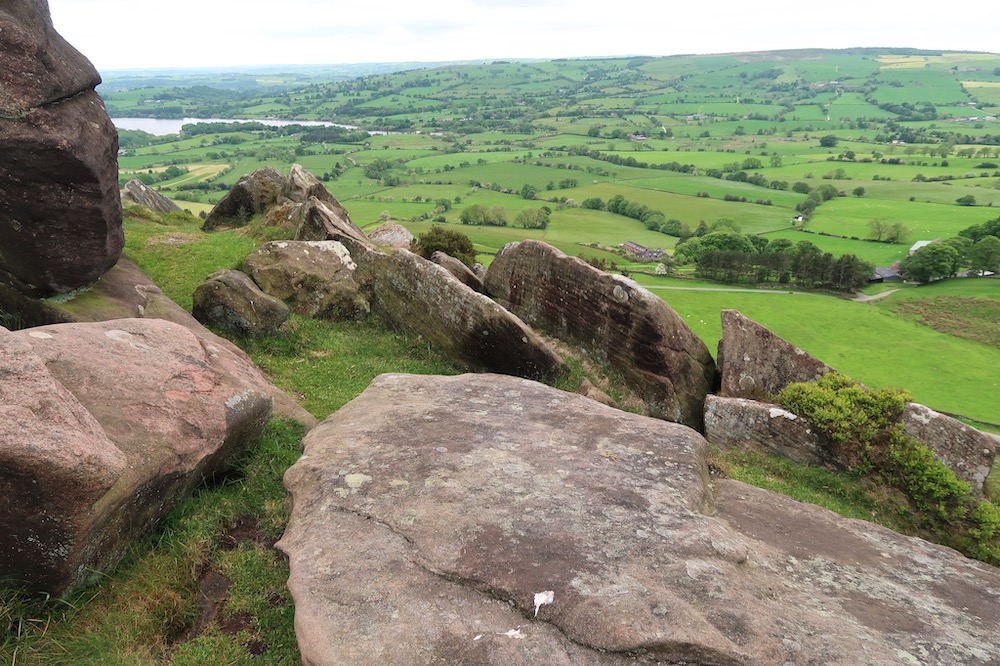 Beautiful green fields in every direction.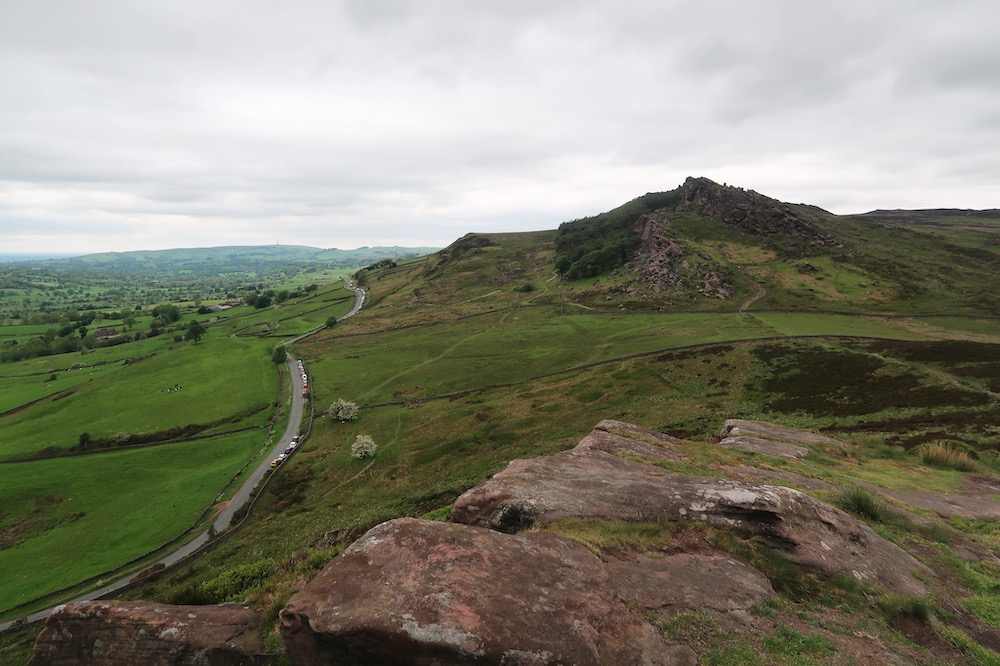 The Roaches road is usually jam packed with cars luckily we went on a particularly quiet day.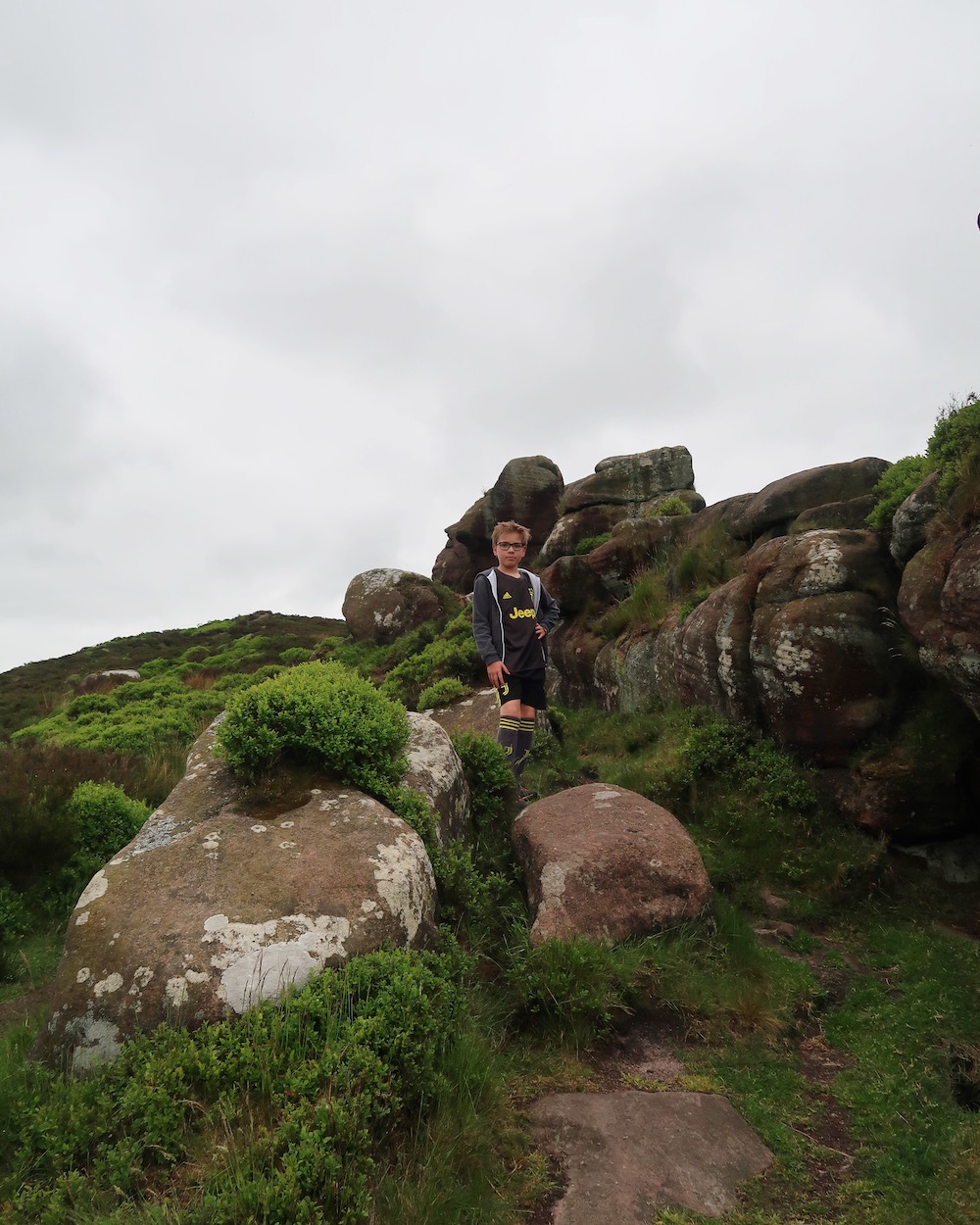 The Roaches is great fun even for someone with a fractured elbow 😉 It can be quite strenuous in places if you're not used to walking up hills and climbing but it really is worth it. It is quite a magical place that we will definitely go back to and explore more.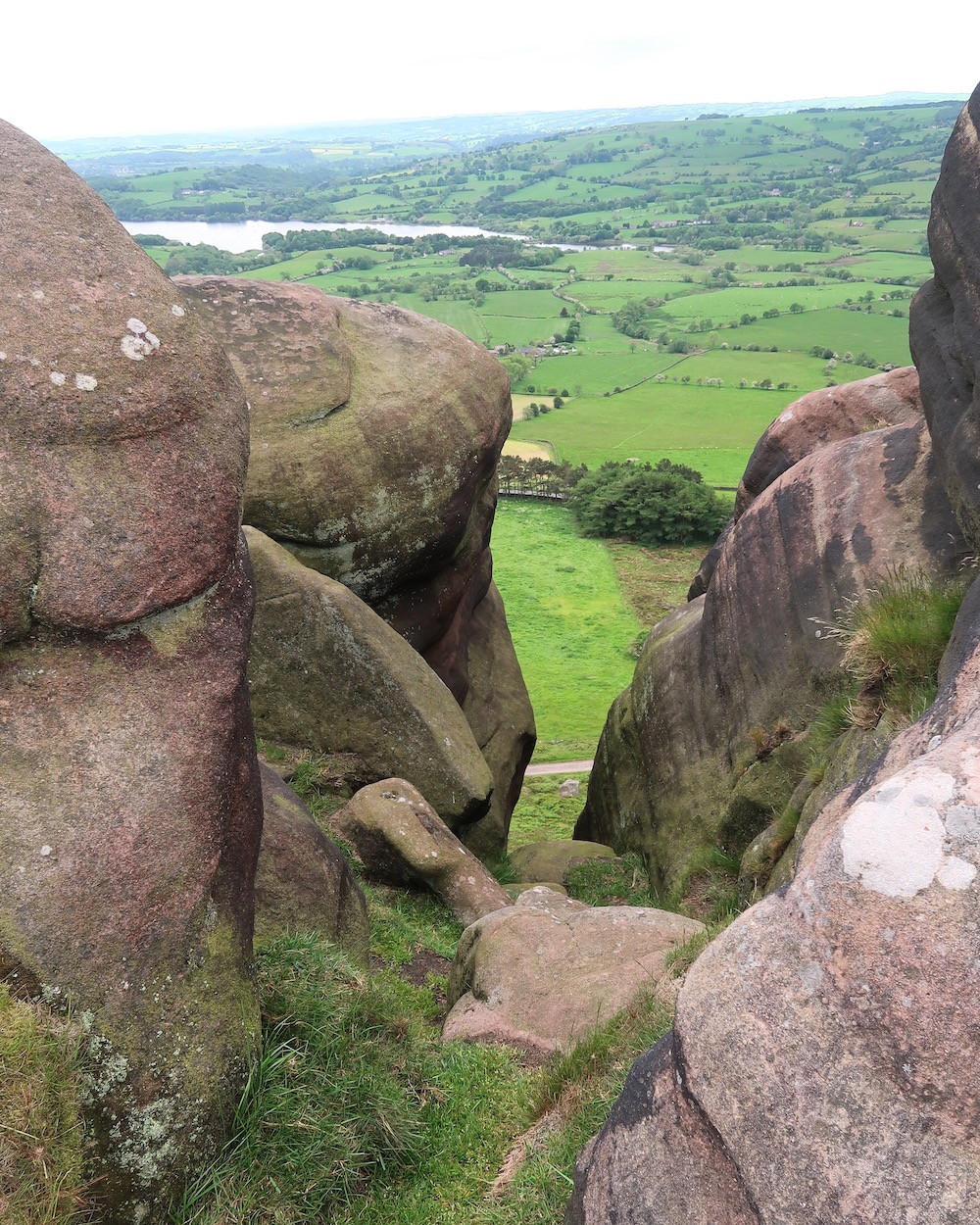 There are some really steep drops in places so definitely keep the kids away from the edge.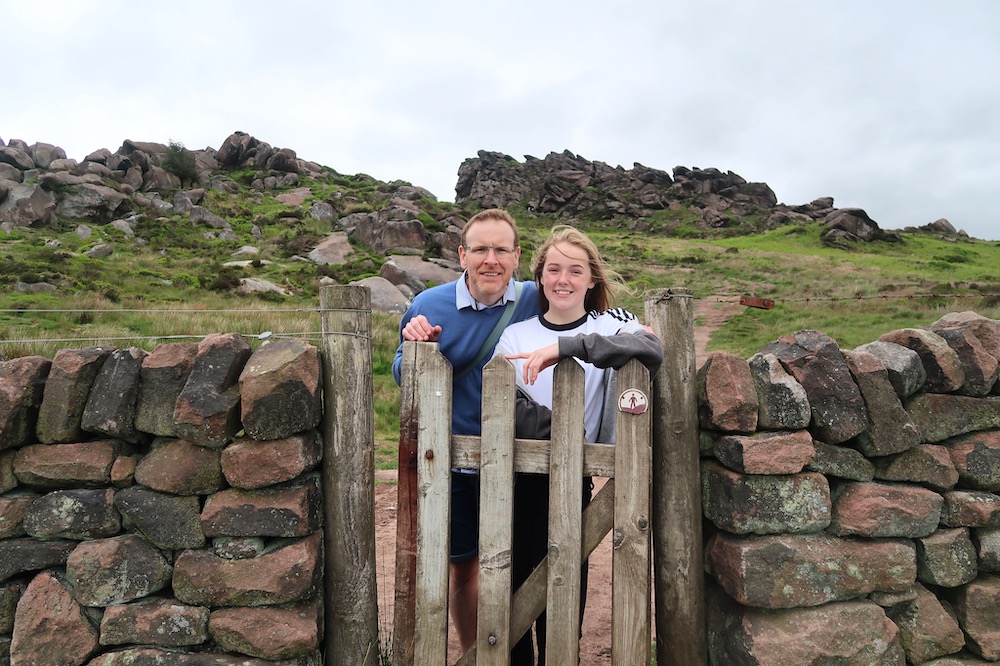 Say cheese!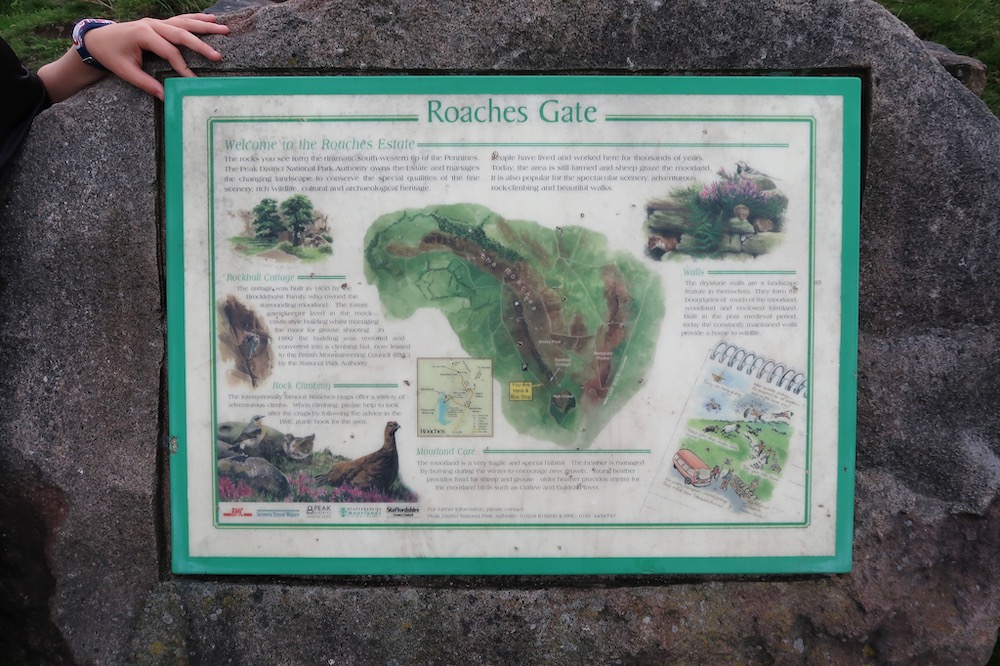 Somehow we always find the information sign at the end of our adventures.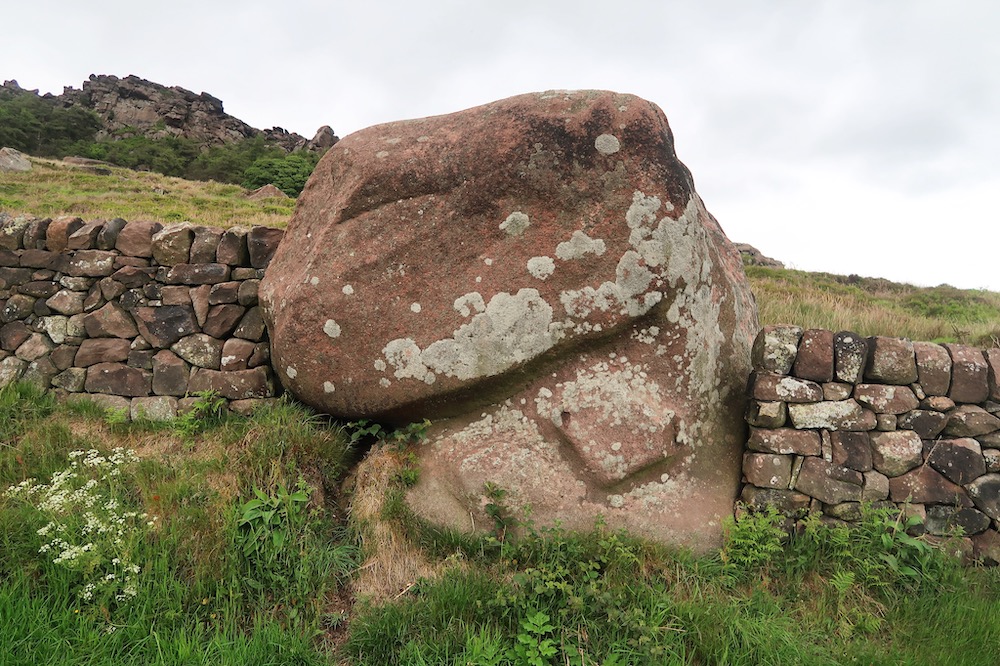 This rock was our favourite find of the day, he looks like a cute little dinosaur 🙂
It gets really very busy at The Roaches, we have been before on a Sunday and there was absolutely nowhere to park so make sure that you get there nice and early if you are going on what is likely to be a busy day.
Things we missed that we will be back to find next time…
Doxey Pool – this is a small pond by the top path of The Roaches. Legend has it that this pool is inhabited by a mermaid called Jenny Greenteeth known as the blue nymph. The legend says that she fell in the pool on a foggy day whilst walking along the top of the Roaches, and ever since has been enticing unsuspecting victims down to the pool and to their watery grave.
The Winking Man – The Winking Man Rock formation is part of the Ramshaw Rocks section of The Roaches. 'Winky' as it is also known can be seen from the Leek–Buxton road (A53) about 5 miles outside Leek. It looks like a face sticking out of the hillside, and as you travel past in a car towards Buxton the 'eye' appears to wink, as a pinnacle of rock passes behind the face as a consequence of parallax.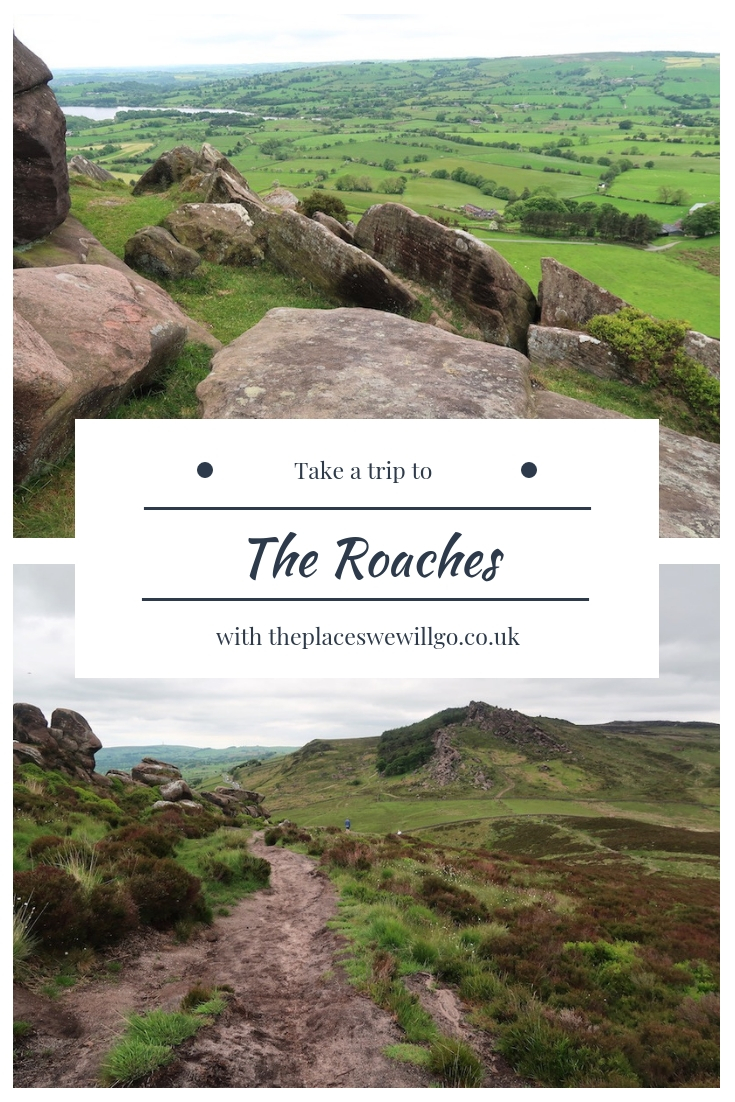 Head over to this page if you are looking for more ideas of things to do in Staffordshire?