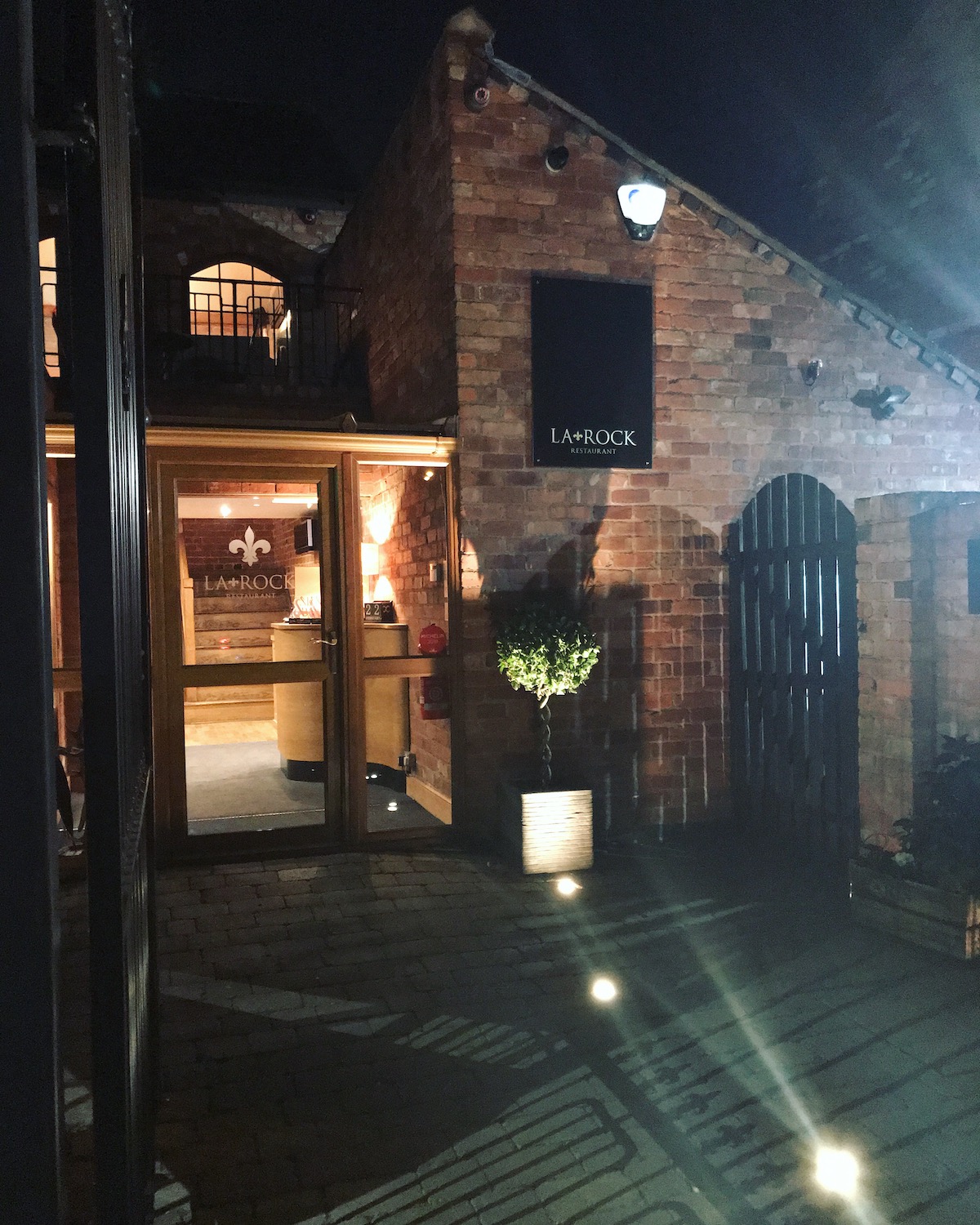 We just love eating out, as we don't do it that often we like to splash out a bit on a really nice fine dining experience when we do. La Rock is somewhere we have been a few times before and it never really fails us. There has been the odd underwhelming dish but mostly it's just superb. If you are from around the area we would highly recommend it to you. They held a tasting evening on the first Friday of every month and we have been to that once, it was gorgeous and just lovely to try foods that we would never have tried otherwise. I can't wait to do that one again and plan to very soon as a special night out with the girls! Last Friday though was just their a la carte menu and I thought I'd share it with you. I'd booked using their online booking form but once we got to the restaurant it soon became apparent that I had booked for the wrong month. The waitress went off to find the manager to see if they would be able to fit us in and thankfully they could. Much to our relief… we are so hungry, we'd been saving ourselves since lunch time as we knew we were in for a treat!
Once seated with our drinks we could relax and start to enjoy ourselves. First up we were served two different amuse bouche which included these gorgeous little cream cheese macaroons which were surprisingly delicious! I say surprisingly as my brain was expecting the sweet macaroon taste but instead got melt in your mouth cheesy deliciousness!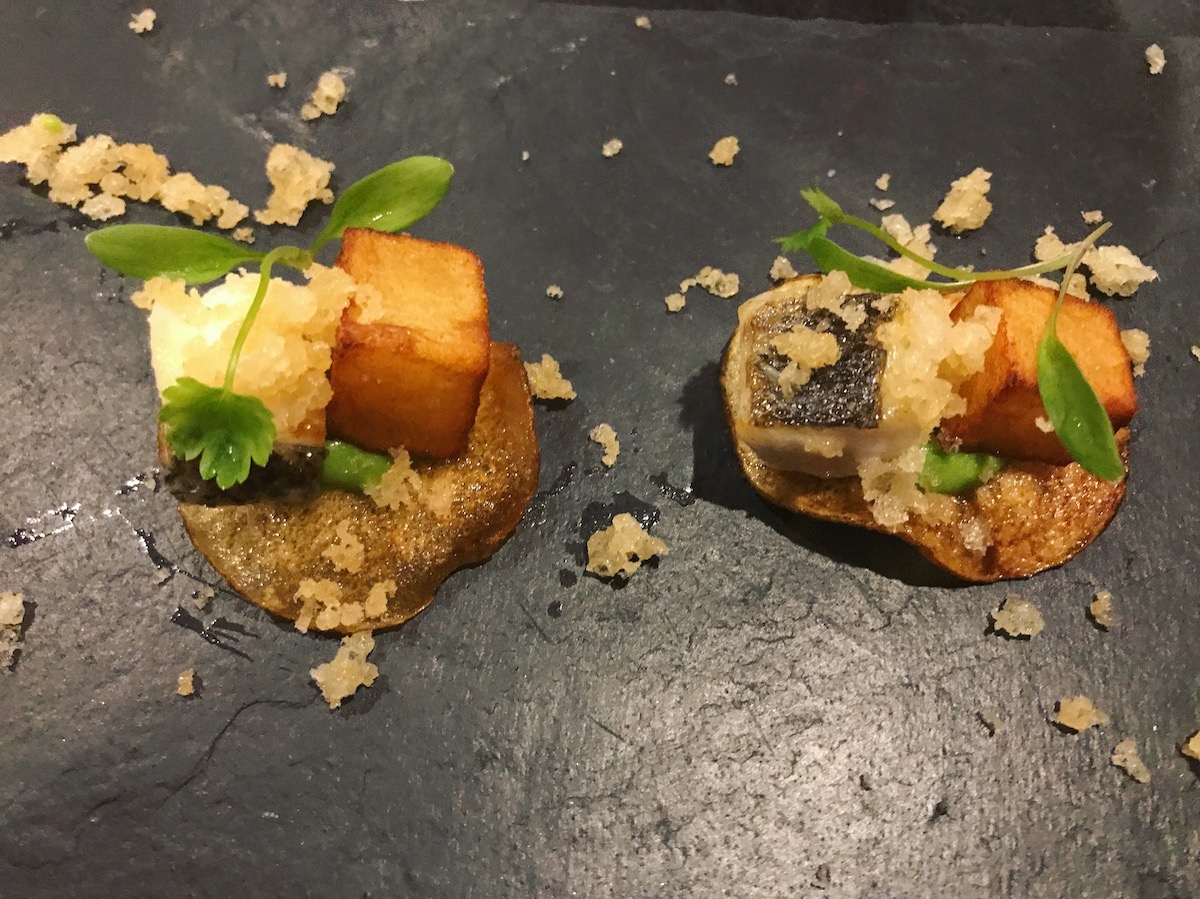 The second amuse bouche were these mini fish and chips and they were just divine! A little piece of heaven! There really is nothing more to say if they'd have served me these all night I'd have been a happy bunny 😉
For my starter I went for the white onion soup, truffle, artisan bread & butter (£8.50) – the truffle really made this dish, it gave it such a depth of flavour! The onion bread was really lovely too.
James went for the local wood pigeon, asparagus, rhubarb & rose and winter truffle (£8.50). He said the combination of all ingredients was just perfect. Who'd have thought to put pigeon with rhubarb? Genius!
I am a huge fan of lamb, although I don't tend to cook it at home as no-one else really likes it so if I am eating out then I'll usually always go for lamb. This duo of English lamb, pea, mint (£30.00) did not disappoint, my favourite part was the gorgeous little bon bon which I could have eaten all night. This was a truly gorgeous lamb dish!
James' main was fillet of English beef and oyster thermidor (£32.00) which he said was the most delicious beef dish he had ever had so that's a pretty high accolade and trust me he has eaten a lot of beef dishes in his time 😉
This delicious mango sorbet palette cleanser was exactly what we need after our mains. It was so light and fresh. Absolutely beautiful!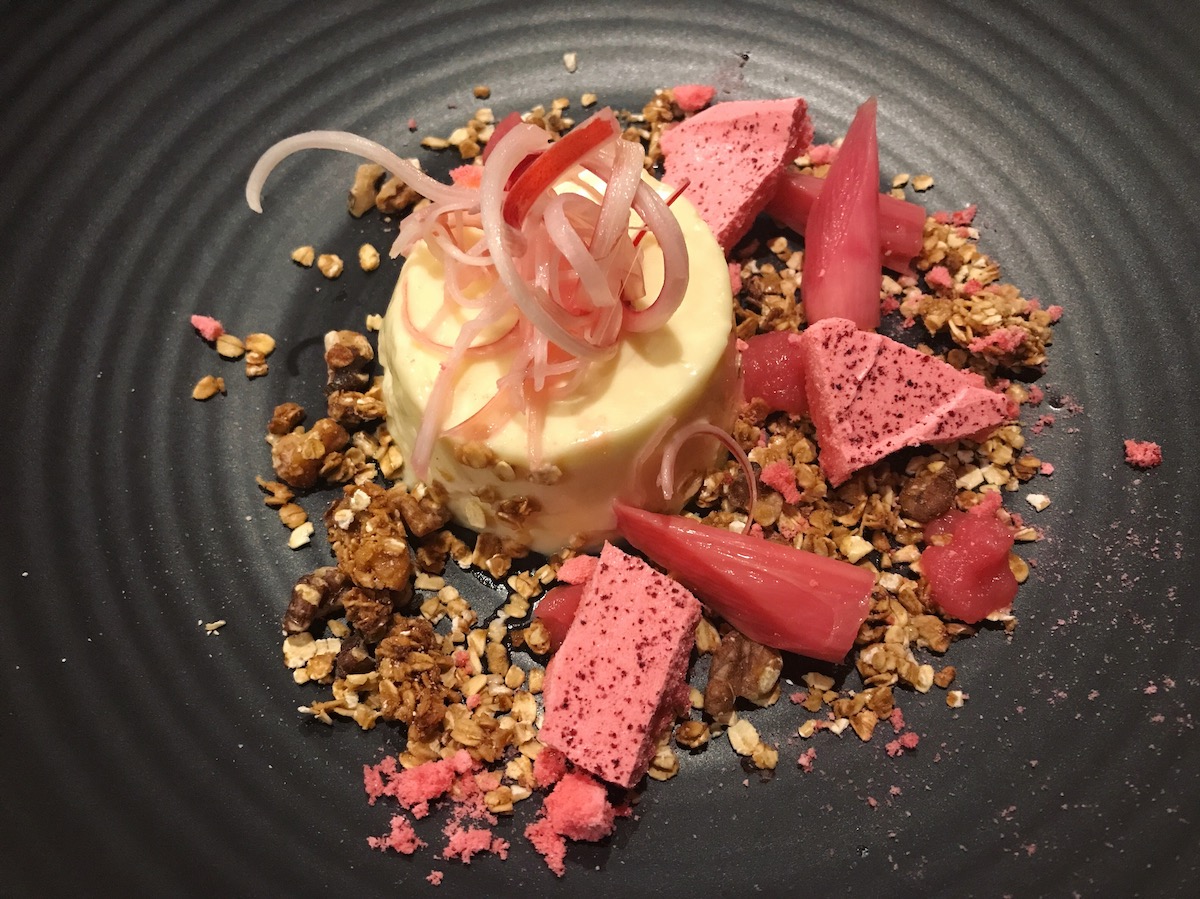 By far the best dish of the night was my dessert 'Rhubarb & Custard' which was vanilla panna cotta, Yorkshire forced rhubarb and walnut granola (£9.00). Had it been on Masterchef Gregg Wallace would have been jumping up and down with delight! I wasn't even going to have a dessert and panna cotta is something I would never usually go for so I am so pleased I went 'out of the box' on this occasion!
Where there is cheesecake on the menu James always without fail goes for the cheesecake… sometimes this turns out to be a bad decision but thankfully not on this occasion. He was slightly sad that he didn't go for the rhubarb & custard dessert but I was kind enough to share mine so he soon got over that and really enjoyed tucking into his Amaretto cheesecake with pear and almond (£8.50).
We love La Rock and it will continue to be our go to 'special occasion' restaurant because the food is fantastic, the staff are great and it has such a lovely atmosphere. Have you ever been to La Rock, do tell us about your experience in the comment section. We'd love to hear from you 🙂
* This review is completely honest and all the food was paid for 100% by ourselves. We have had no contact with La Rock restaurant other than to eat there as paying customers, we just wanted to share our experience with you all.