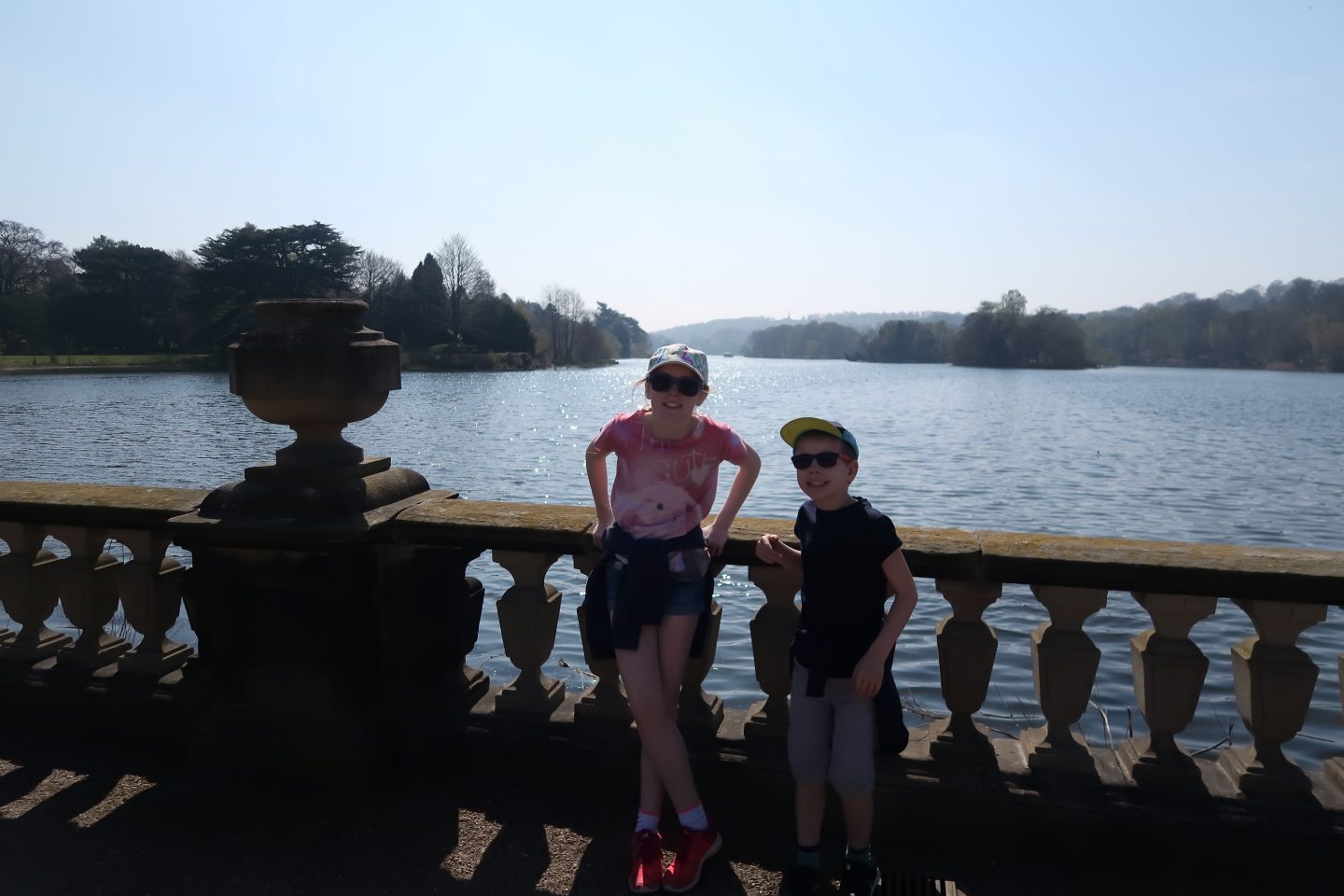 BOOM! Spring and Summer arrived on the same day and it is only just April.
I have been running a lot this year as I am in training for a half marathon and the weather has been pretty good for late winter/early spring but this weekend was unprecedented…totally. So guess what the Places We Will Go needed to be extended and this weekend we choose Trentham Gardens.
Just outside Stoke there is an ideallic country park with beautiful gardens, a good sized lake, wonderful play area and a 'foot' / 'feet' experience… more on that later.
The estate sits behind ca 50 shops in log cabins which sell a vast array of outdoor clothing, arts and craft products and a variety of cafes and coffee shops. The shopping experience is very pleasant and while I am never one to buy craft items it is a good place to go if local. For us the visit was a ca 1hr drive and our real destinatiton was the parkland behind. The parkland was segregated from the back line of the shops by a stream. This not only forms the border to the park but also is a way to stop and control people from entering the parkland without paying.
The entrance to the park is certainly not cheap. £39 for a family of 5, this does not include any experiences in the park – eg boat rides, train rides or access to the Monkey Forest which is found at a separate entrance (apparently approx. 130+ monkeys which are free roaming so you can get up close and personal).
Unfortunately, we made a mistake on this very hot day of not purchasing our tickets in advance…and the queue was long and tortous. What should have been a 5 min entry took 40 mins of patient queuing. We also forgot to take drinks so although we had a picnic ( which I do not recommend is left in the car) we then had to queue for drinks.
However, when we finally get in there is some brilliant climbing frames and kids toys, some wonderful park land to explore and a beautiful lake to walk around (ca 2 mile walk). The lake walk was particularly pleasant with a lot of wildlife to see, especially birds; some sculptures and elegant and imposing metal fairies which the kids have to spot. Next to the lake is a huge Italian Garden with Trentham Hall remains behind and this is subtle but quite spectacular.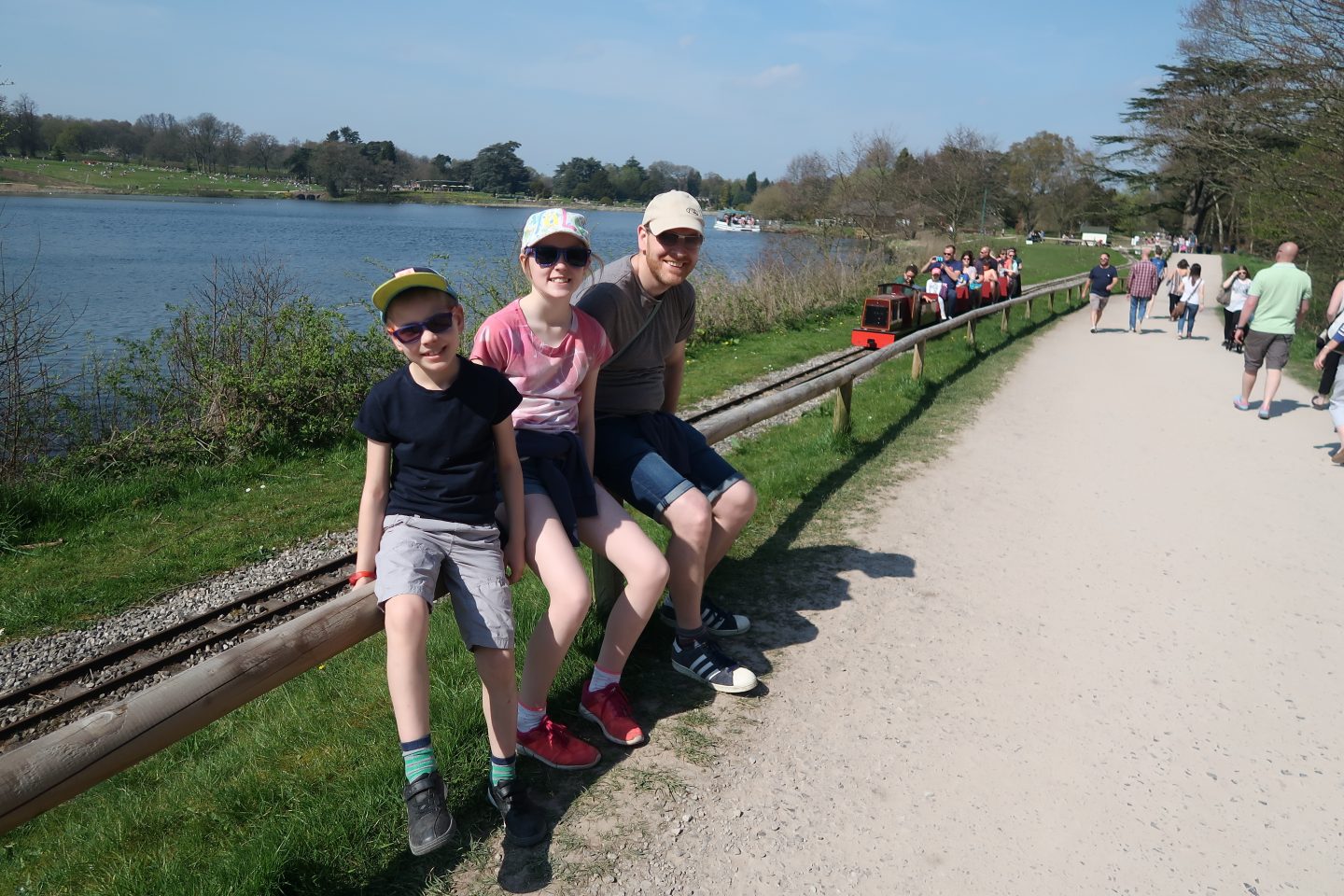 So after playing on the kids toys, seeing the baby lambs, enjoying our picnic, walking around the lake and spotting fairies we turned to the 'highlight' of the day. A barefoot experience. This basically consists of a single track which snakes around a hillside which is split into sections and you have to walk it barefoot. Stones, sand, shingle, water, mud, clay, chopped tire, slate and a number of other experiences for the feet…..all I can say is: Ouch! The mud / clay was lovely as was the water but, this was a real trial and quite painful to complete, although I did manage it… just. Sonia and the kids however LOVED this but it really was not for me!  The real pleasure was putting your trainers and socks on after the event….ahhhhhhh….and you realize how important our footwear really is.
A great day was had, in wonderful weather and even if a little expensive it was really worth while experience. If we lived a little closer we would most certainly buy an annual ticket which we think are brilliant value at £122.
Head over to our Facebook page to see all our photos from our day at Trentham Gardens.