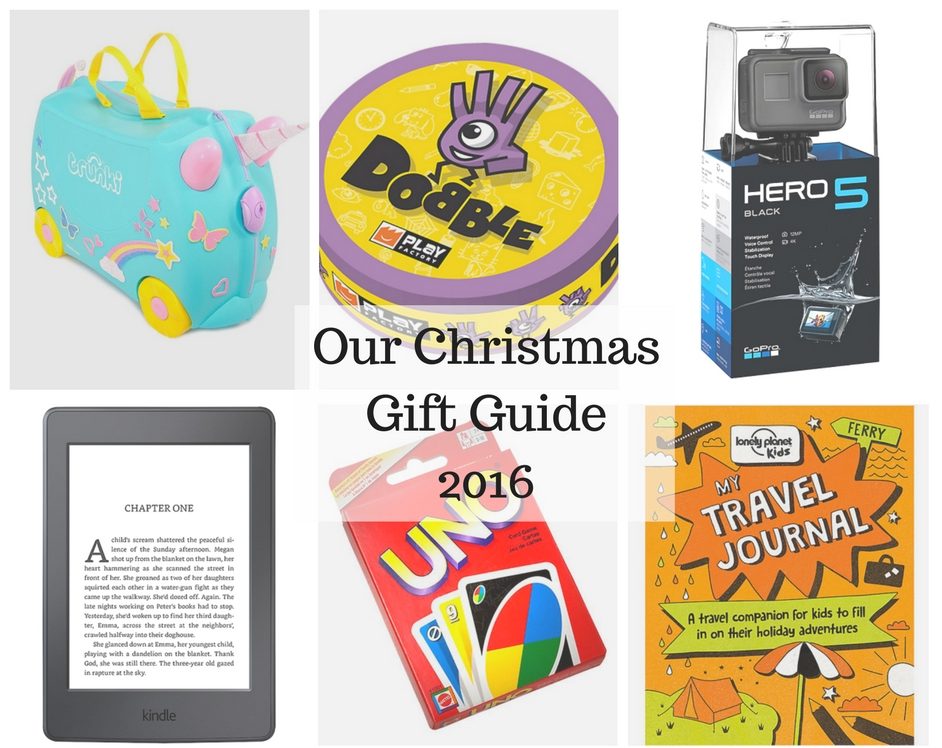 Today we are really excited to be bringing you some awesome gift ideas for families that love to travel. It's basically our Christmas wish list… hint hint 😉
Personalised suitcase £110 – Upload your very own photo to Bags of Love and they will create you your very own personalised suitcase for you. We love how ours turned out! The suitcase is absolutely fantastic quality and we really could not be happier with it!
Mosquito Repellent Adjustable Wrist Band £6.00 – If you travel then you need to have a stash of these, each band will keep the insects away for up to two weeks. The wrist bands are manufactured from silicone and have been designed to contain a plant based derived insect repellent which is oil of lemon eucalyptus (Citriodiol) that has been proven to repel mosquitos.
Compact Beach Towel £10.00 – These compact beach towels have literally changed our life! Gone are the days of having bulky towels in our cases or swimming bags. These are incredibly absorbent and are a really good size (32 Inch x 63 inches). My kids have them for their swimming lessons too!
My Travel Journal £8.99 – Never forget holiday highlights and your travels with this 72-page journal. Packed with activities, fill-in fun, from lists and logs to doodles and collages. Draw the view from your hotel window, create the ultimate holiday playlist, make a city skyline from your ticket stubs. There's plenty of inventive ways to record your travel moments. Backpack sized, the journal has an elastic closer to keep mementos safe. It's ideal for ages 5 to 8 years.
Una the Unicorn Trunki £39.99 – You have no idea how excited I was to see a unicorn Trunki pop up on my Facebook timeline the other day. Boo has outgrown her Trunki now but this would definitely be on my to buy list if I had someone to buy it for. If you have a little unicorn lover then this would make an amazing Christmas gift!
Cath Kidston Button Spot Flight Bag £75.00 – I have fallen in love with the new spot range from Cath Kidston this year! I would LOVE this to be under the tree for me this year 😉
Molton Brown Ladies' Carry-on Bodycare Gift Set £40.00 – Wherever I am going I always like to make sure I have a little bit of luxury with me so I always treat myself to some really nice body care products before I go away. I love Molton Brown products 🙂
BoostApak £44.99 – BoostApak is a hand luggage-approved backpack that doubles as a booster seat with plenty of space for toys and games to keep everyone content during long journeys. BoostApak is the best way to avoid hire charges when travelling abroad. It's also an ideal solution for sharing lifts and travelling in coaches or taxis. BoostApak is a ECE44.04 approved car seat for group 2 & 3, certified to European Union and United States safety standards, recommended for children under 135cm weighing between 15 and 36 kg (approx. 4–12 years).
Go Travel Memory Bean Pillow £14.99 – Something I learnt on a long haul flight this summer was that you really need a neck pillow, the more comfortable you can make yourself on a long haul the more chance you are to get some sleep.
GoPro HERO5 £349.95 – This is on the top of out wish list this year! The HERO5 Black is the most powerful and easy-to-use GoPro ever, thanks to its 4K video, voice control, one-button simplicity, touch display and waterproof design! Sounds awesome doesn't it! We can't wait to take one on our adventures next year 🙂
Amazon Kindle Paperwhite eReader £109.95 – I'm a real paperback lover myself but when I am travelling I could not be without my Kindle. I used to limit myself to one book when I was travelling but now I can have as many as I want with my at all times 🙂
LittleLife Family First Aid Kit £19.95 – Contains all that you might need for little accidents on the go. We never leave home without ours!
Dobble Card Game £9.99 – Dobble is a speedy observation game where players race to match the identical symbol between cards. Reliant on a sharp eye and quick reflexes. This game goes everywhere with us; flights, waiting rooms, restaurants… it has provided our whole family with hours of fun. Ages 6+
Uno Card Game £6.99 – Another card game that we wouldn't be without! Uno is the classic card game which is fun and quick to learn. The aim of the game is to be the first player to score 500 points, by getting rid of all the cards in your hand before your opponents. It's a fun game to play for all the family. Ages 7+
We hope this guide gives you some inspiration but if you are still stuck with no idea what to buy someone then I can also highly recommend a gift experience. We have had lots of success with buying experiences rather than an actual gift. Our last experience was quad biking and we had such an amazing time. Memories that will last a lifetime 🙂